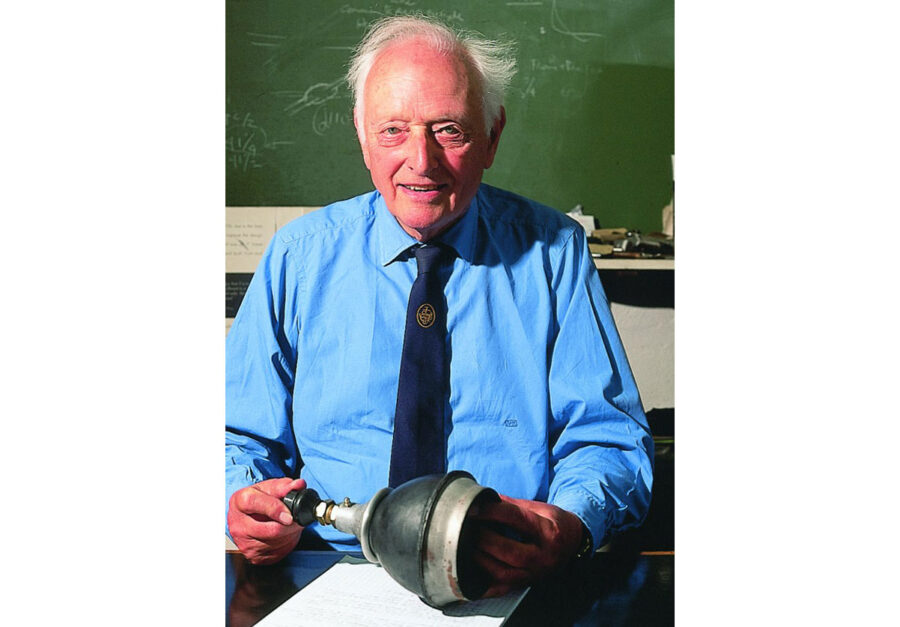 Alex Moulton: A biographical summary
Born
  9th April 
1920
, Rother Place, Stratford-upon-Avon, Warwickshire, UK
Died
  9th December 
2012
, Bath, UK
Buried
  Christ Church, Bradford-upon-Avon, UK
Era
Modern
Mechanical engineer 
Dr Alexander Eric 'Alex' Moulton
 is the man behind the revolutionary small-wheeled lightweight 
Moulton Bicycle
, models of which are still in production, more than 50 years after the initial development work. A specialist in the design of suspension systems, he is responsible for the smooth ride associated with a large range of cars built by the 
British Motor Corporation
 (later 
British Leyland
), starting with the ever-popular 
Mini
, first released in 1959.
Moulton is described by architect Norman Foster (b.1935, knighted 1990, Baron Foster of Thames Bank 1999) as a "remarkable man" and "brilliant engineer". His design process linked form and function — inspired by a Japanese tradition that the spirit of the maker is in the artefact — and his ideas that led to prototypes went through a sustained process of testing and improvement. Through his company, 
Moulton Developments
, he developed the innovative 
Hydrolastic and Hydragas suspension systems
. The first of these was in use from 1962 to 1978, and Hydragas from 1980 to 2002.
Moulton's undergraduate studies at King's College, Cambridge, had been interrupted by wartime work on RAF aircraft engines at the Bristol Aeroplane Company, later assisting chief engineer Sir Roy Fedden (1885-1973). Research suited Moulton. He was driven by a desire to understand the fundamentals of a problem before tackling it, trying a solution and then checking the results. He liked to explain and share his conclusions.
The Moulton family's engineering heritage goes back to his great-grandfather Stephen Moulton (1794-1880), an early fabricator in Britain of vulcanised rubber products, working from Bradford-on-Avon. George Spencer Moulton & Co (Spencer Moulton), the company that resulted from a later merger (1891) with a London firm, was a major supplier to railway and vehicle manufacturers for 65 years.
Moulton joined the company in 1945, where he was able to research rubber technologies and find new uses for rubber in place of metal, notably in spring suspension systems. Rubber maintains its volume under load deformation and regains its original shape when unloaded. At the time, its properties in compression were well understood but its behaviour under shear and bending was relatively untested.
In 1948 Moulton invented the Flexitor suspension unit — a torsional shear spring with an inner tubular steel shaft and outer rubber shell, loaded by the relative angular rotation of the two. It's an improvement on the generally-used Torsilastic tubular rubber spring [pioneered by Alvin S. Krotz (1893-1970) in the USA]. Flexitor is easier to attach to a chassis and its shell is a single piece.
In the 1950s, Moulton developed the cone suspension unit that was used in Minis from 1959 until 2000 — a truncated cone (frusto-conical) rubber spring and shock absorber, consisting of a cup-shaped body of rubber bonded between steel plates and attached to a metal arm ending in a ball joint. The ball joint slots into a socket on the wheel strut and, as he noted, "resembles the typical anatomy of a muscle-actuated limb".
Hydrolastic suspension
 is a refinement of the cone system. It used hydraulic fluid damping and linked a vehicle's wheels into one system, greatly reducing vehicle pitching. Cars manufactured by the 
British Motor Corporation
 (later 
British Leyland
) featured Hydrolastic suspension. After 1967, Moulton Developments worked on the 
Hydragas
system, with a pressurised cushion of gas at each wheel and hydraulic fluid interconnection.
In the late 1950s, Moulton started to think about bicycle design, determined to improve ride efficiency and comfort. He interrogated every component of the traditional bike, establishing the essential requirements. The result was the 
Moulton Bicycle
, with its distinctive small diameter wheels, lightweight frame and rubber spring suspension. The 
Mark 1 prototype
 (F-Frame) was completed in early 1959, with a revised version ('lazy F') going into production for launch in November 1962. It was an instant success, and by the end of 1963, Moulton had become the second-largest bike frame manufacturer in Britain.
The Moulton bike's high performance and distinctive design have made it popular with cyclists worldwide. Notable models (using the later AM space frame) include the record-breaking AM7 Speed (1983), the AM-ATB (all terrain bike, 1988), and the APB (all purpose bike, 1992). In 1998, the New series was released, using Flexitor suspension on the front wheels and Hydrolastic on the rear. The Moulton Bicycle Company (formed 2008) continues to operate from Bradford-on-Avon. Present-day fans include inventor James Dyson (b.1947, knighted 2007).
Alex Moulton was granted more than 250 patents in his lifetime, 90 percent of them as sole author and 58 percent of them in Britain. His most prolific decades were the 1950s and 60s, covering at least 148 patents. He always devised names for his inventions as he thought that a distinctive word describing their purpose would be memorable.
There was scarcely any boundary between Moulton's life and work. He never married, and he was able to pursue ideas to his own timetable. However, he was keen on outdoor activities: hiking and kayaking into his late eighties, and riding a Moulton bike into his nineties. In 2010, on his 90th birthday, he unveiled the prototype MDev 90 — a new aluminium and carbon fibre-frame bike that can be put together in 20 minutes.
Fiercely intelligent, some would say eccentric and idiosyncratic, he followed through on his convictions. He mourned the decline in British manufacturing, believing in the superiority of moral over financial rewards: "Man should make things — make a profit, of course, but don't take the money gain as the prime judgement".
---
1920
Born 9th April in Stratford-upon-Avon at his maternal grandmother's house, third child of Major John Coney Moulton OBE (1886-1926, army officer and naturalist/zoologist, curator of Sarawak Museum c1905-15) and Beryl Latimer Greene (1886-1972) with siblings — John G. (b.1916) and Elizabeth Dione (1918-2003)
1928 on
Raised by mother and grandmother (father died 1926) at The Hall, Bradford-on-Avon (in Moulton family since 1848), first bike: a Hercules
c.1929-33
Attends Arden House prep school, Henley-in-Arden
1933-38
Boards at Marlborough College, builds a steam car (GN chassis and chain drive, powered by a two cylinder Locomobile engine, boiler heated by a Calor-gas Simpson burner) using own lathe, and is pupil apprentice at Sentinel Waggon Works, Shrewsbury (under Abner Doble [1890-1961])
1938
Reads mechanical engineering at King's College in Cambridge, studies interrupted by World War II, volunteers for service
1939-45
Working (from September) in engine research department at Bristol Aeroplane Company (Filton), initially testing superchargers and carburettors
1940
Promoted (September) to personal assistant to chief engineer Sir Roy Fedden (1885-1973), working in reserved occupation on RAF engines including the 18 cylinder Centaurus
1945
Joins George Spencer Moulton & Co (Moultons owned the factory), assists works manager James 'Jimmy' Chrystal and rubber chemist Dr Samuel Shrowder Pickles (1878-1962)
1946-7
Sets up research department studying rubber technology and rubber-to-metal bonding
1947
Resumes studies at King's College, graduates after four terms
1947
Returns to Spencer Moulton, continues investigating rubber-to-metal bonding, pioneers rubber suspension ideas
1948
Invents Flexitor suspension spring (sleeve of rubber twisted in torsion) for caravan and boat trailers and the Austin Gipsy, installs rubber suspension on aeronautical engineer Ian Duncan's Dragonfly car, British Motor Corporation (BMC) shows interest in Flexitor
1949
Meets Alexander Arnold 'Alec' Issigonis (1906-88, knighted 1969) who is unconvinced about rubber suspension for vehicles ("Rubber is not an engineering material")
c.1949-50
Recruits Philip Wilson Turner (1921-2001, physicist) from University of Cambridge to work on fatigue and creep tests, sets up subsidiary Spencer Moulton Flexitor Ltd, fits rubber rear suspension to motorbikes (Vincent HRD Comet, and Enfield)
1950-51
Two papers with Turner — Influence of Design on Rubber Springs (1950), Development and Testing of a Series of Rubber Suspension Units (1951)
1950s
Experiments (early 1950s) with fitting Flexitor to a Leyland Olympic Bus, converts a Thorneycroft craft lorry to use Flexitor
1952
Working with Issigonis on TA350 car suspension at Alvis in Coventry, devising independent suspension with fluid interconnection
1953
Working with William John 'Jack' Daniels (1912-2004) in research department of BMC at Cowley, fits a Morris Minor with rubber suspension (front: Flexitor, rear: Rotashear) and removes the torsion bars, tests car on cobblestone track at Motor Industries Research Association in Nuneaton for 1,600km without failure (compare coil spring suspension: ave 800km)
1955-59
Issigonis returns to BMC as chief engineer and explores using Moulton's rubber suspension on Austin/Morris cars including the 

Mini

 (1959)
1956
Spencer Moulton in financial difficulty and sold (1st January) to Avon India Rubber Co Ltd for 6s 6d (32.5p) per share, Moulton appointed technical consultant to Avon
1956
Founds Moulton Developments Ltd
1957-59
Working on the analysis and redesign of bicycles, leading to the creation of the 

Moulton Bicycle

1959
Launch of the 

Mini

 (October) at British International Motor Show in London, featuring Moulton rubber cone spring suspension
1959
First bicycle patent (applied 16th November 1959, granted 27th October 1960)
1960
Licensing agreement (October) with Raleigh but project abandoned (January 1962)
1962
Sets up Moulton Bicycles Limited (April), builds bicycle factory on The Hall estate, commences manufacture in conjunction with BMC (Kirkby, Liverpool)
1962
Perfects the design of 

Hydrolastic suspension

 (August)
1962
Moulton Bicycle unveiled (November) at Cycle & Motor Cycle Show in London to great acclaim
1964
Diploma di Medaglia d'Oro (gold medal diploma) in Milan, some Minis fitted with Hydrolastic suspension (and Austin 1800, Maxi and Allegro)
1967
Awarded honorary doctorate by Royal College of Art, and a Queen's Award for Technical Innovation
1967
"Distress sale" (29th July) of Moulton Bicycles Limited to Raleigh, retained as a Raleigh consultant, some bikes produced by Raliegh without front suspension: the frames crack
1967-69
Anthony 'Tony' Best joins Moulton Developments (1967) as chief engineer working on vehicle suspension and leads evolution from Hydrolastic to 

Hydragas

, company moves from iterative testing to computer modelling
1968
Elected to the Faculty of Royal Designers for Industry for his engineering products
c.1970
Designs and builds a lorry with Hydrolastic suspension, and a prototype (not produced) long-distance bus with Hydragas suspension — body by Moulton Developments, chassis of British Leyland truck parts, eight wheels, twin front steering axles, Perkins engine, smooth ride and safe handling
1971
Awarded honorary doctorate by University of Bath
1973
Leads Royal Institution Discourse on results of fundamental research into power required to drive a bicycle, Austin Allegro fitted with Hydragas suspension
1974-75
Raleigh ceases (1974) Moulton Bicycle manufacture and terminates (31st January 1975) consultancy agreement
1975
Incorporates Moulton Developments Limited (18th March), begins designing a tubular space frame bicycle, Moulton Bicycle Club founded, Austin Princess fitted with Hydragas suspension.
1976
Awarded CBE for services to industry
1977
Registers (25th March) The Alex Moulton Charitable Trust
1979
Rides (11th November) the first prototype of the space frame bike in the Peak District, testing continues in secret
1980
Made Fellow of Royal Academy of Engineering
1980
Austin Mini Metro fitted with Hydragas, though the suspension units not connected front-to-rear as intended
1981-3
Master of Faculty of Royal Designers for Industry
1982
Closes Moulton Developments, Austin Ambassador produced until 1984 with Hydragas suspension
1983
Buys back own designs and patents from Raleigh, forms new company Alex Moulton Bicycles in Bradford-on-Avon, launches (19th May) two space frame models (bicycles "for doctors, engineers and perfectionists")
1985-8
Vice President, Royal Academy of Engineering
1987
(silver) Jubilee model space frame produced to mark the 25th anniversary of Moulton bicycles
1988
Offers space frame bike to Raleigh for manufacture (declined), produces first full suspension mountain bike (AM-ATB)
1990
Rover Metro/Rover 100 fitted with interconnected Hydragas suspension
1992
Licences Pashley of Stratford-upon-Avon to make the more affordable space frame all purpose bicycle (APB) in high tensile steel tubing, design derived from the ATB
1994
Awarded honorary doctorate, Cranfield University
1995
MGF roadster launched with Hydragas suspension
1997
Awarded Sir Misha Black Medal for distinguished services in design education (Design & Industries Association, Faculty of Royal Designers for Industry and Royal Academy of Engineering), made Fellow of the Institution of Mechanical Engineers
2000
Licenses Bridgestone in Japan to make an aluminium Moulton bicycle based on the original F-Frame
2002
12 millionth and last new car (an MGF) to be fitted with Hydragas suspension
2005
Institution of Engineering Designers Gerald Frewer Memorial Trophy for contributions to bicycle and vehicle design, highly commended in Prince Philip Design Awards, Moulton bicycle wins New Designers competition for iconic example of British ingenuity
2008
Re-organisation of Alex Moulton Limited
2009
Inaugurates Institution of Engineering Designers Alex Moulton Award for innovative and inspiring designers
2010
Launches (9th April) a "radical redesign" of the Moulton bicycle on his 90th birthday — Prototype MDev 90, a slimline space frame stiffened with carbon fibre, designed for rapid assembly
2012
Hosts a celebration (November) of 50 years of the Moulton Bicycle
2012
Dies (9th December) from a respiratory tract infection
2012
Funeral (19th December) at Bradford-on-Avon, Holy Trinity Church, cortege greeted by a bicycle guard of honour staged by Moulton Bicycle Club members, buried in family grave, most of his £4.2m estate passes to the charitable trust
2015
Moulton Developments Limited dissolved (27th October)
---
Selected works
Flexitor Suspension System
, Bradford-on-Avon, Wiltshire, UK
 .... 1947
Hydrolastic Suspension System
, Bradford-on-Avon, Wiltshire, UK
 .... 1955-62
Suspension system for the Mini
, Bradford-on-Avon, Wiltshire, UK
 .... 1957-59
Moulton F-Frame Bicycle
, Bradford-on-Avon, Wiltshire, UK
 .... 1957-62
Hydragas Suspension System
, Bradford-on-Avon, Wiltshire, UK
 .... 1967-73
Moulton Space Frame Bicycle
, Bradford-on-Avon, Wiltshire, UK
 .... 1975-83
Moulton New Series Bicycle
, Bradford-on-Avon, Wiltshire, UK
 .... 1998
MDev 90 prototype bicycle
, Bradford-on-Avon, Wiltshire, UK
 .... 2010
---
Sources
Dan Farrell, Riding on Rubber: the story of Bradford on Avon's world-renowned rubber industry, Ex Libris Press in association with Bradford on Avon Museum, 2017
Dan Farrell, Obituary — Toby the Cat, Moulton Bicycle Company, 2013
Tony Hadland, The F-Frame Moultons, Lit Verlag, Berlin, 2014 (first published 1981)
Tony Hadland, The Spaceframe Moultons, Lit Verlag, Berlin, 2009 (first published 1994)
A.E. Moulton, Rubber suspension systems, Chapter 4, Steering, Suspension and Tyres, edited Dr John George Giles, Iliffe Books Ltd, London, 19th July 1968
Alex Moulton, A Lifetime in Engineering: An Interview with Alex Moulton and John Pinkerton, Lit Verlag, Berlin, 2007 (interview conducted 24th October 1998)
Dr Alex Moulton, Innovation, Journal of the Royal Society of Arts, Vol.128, No.5281, pp.31-44, December 1979
Andrew Nahum, Moulton, Alexander Eric [Alex] (1920–2012), Oxford Dictionary of National Biography, Oxford University Press, Jan 2016
Open University, T100 module, Man-Made World: a Foundation Course in Technology, (20 min long video plus transcript), made 1971, first transmitted 12th March 1972
Our thanks go to Dan Farrell and Aynsley Brown for their generous help
---
This biography was funded by:
Moulton's suspension cones & kits can be purchased for your Mini right here at
Mini Sport!
You can view the range
here
 or click the images below for full details.