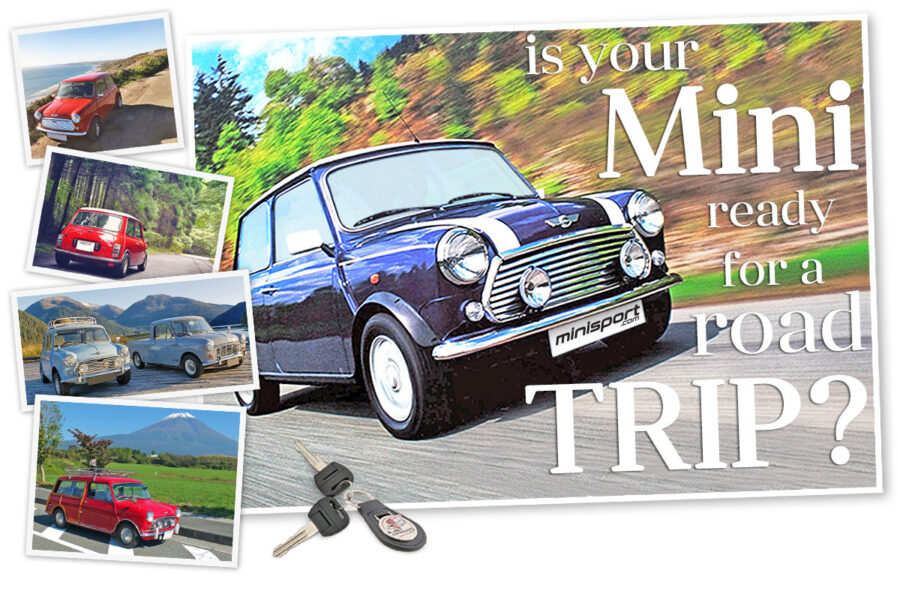 Summer is here! With many more people choosing to holiday in the UK this year ( Staycation ), road trips are on the rise...
If you're planning on going on a Mini Road Trip, it's a good idea to just carry out a few simple checks on your car to ensure that you stay safe on those longer journeys!
We've tasked our experts with putting together a list of recommended checks to carry out on your Mini in preparation for your trip.
Mini Road Trip Preparation
Ensure your Mini is MOT'd, taxed and insured - even if it's MOT exempt, we would advise you still have this done so you know that your Mini has been checked over by a professional mechanic & that you're as safe as possible when on the road.
Full Service:
Check engine running temperature - renew thermostat if unsure
Check the water pump - ensure there is no noise/play
Check the radiator - flush out the cooling system & heater
Check or renew antifreeze / Summer Coolant
Replace spark plugs
Set Valve Clearances
Replace points & condensor - if fitted
Replace or clean the air filter - dependant on type
Check the alternator & charging system
Change the alternator belt
Change the brake fluid
Check clutch fluid levels
Check starter motor including connector to solenoid
Check the fuel gauge is reading accurately
Check the clutch for slipping or high bite point - if it's high up, it is getting worn out
Check clutch master & slave cylinder for leaks
Test battery - recommend renewal if it's over 3 years old
Top up screen washer bottle
Check lights & electrics are all in working order - including the wipers/horn
Check the condition of the wiper blades & washer jets - ensure the blades are not split and washer jets are not blocked
Check the brake hydraulics - including the brake hoses, brake pipes & wheel cylinders
Jack Up Car:
Check ball joints - check there is no play in them
Check wheel bearings - if your Mini has been stood over winter, it's advisable to change these
Check all suspension bushes - including subframe mounts, bottom arm bushes & tie bar bushes
Check suspension height on the Mini - terrain dependant
Check tracking - if adjustable suspension components are fitted then have a full geometry check
Check engine mounts & engine steady bushes - look for wear/movement
Check for wear in radius arms & front top arms
Grease all suspension/grease points
Check for oil leaks
Strip and examine brake linings & discs - if new required it may be worth an upgrade
Check driveshaft boots & joints - check for splits/wear
Check exhaust mountings & the condition of the exhaust - check that they've not corroded/blowing
Check steering rack boots & track rod ends
Examine the knuckle joints and rubber cones - wear/aged
Check shock absorbers - if they're aged/in doubt then replace
Radius arms - check the pins, bushes & bearings, look for corrosion & wear
Check tyres - check the tyre pressures, & tread depth and condition of the side walls, including the spare tyre
Research the tyre laws for the country you are visiting (E.g UK 1.6m min whereas Germany is 3m min)
Check the time of your trip for tyre type required (E.g snow/winter tyres)
Make sure you have a towing eye fitted and  a relevant emergency tool kit
Ensure number plate has GB sign on it
Change bulbs
Rolling road tuning - for increased reliability & economy, ensure your Mini is running right!
Essentials For Your Mini Road Trip
Passport
Maps/GPS - In case of diversion/no signal
Phone charger
Registration/ID/proof of insurance/Roadside assistance info (All must be in date)
Spare wheel
Locking wheel nut tool (If fitted)
Jump cables
Set of spark plugs
Wire and connectors
Engine oil
Rags
Spare car key
First aid kit
Warning triangle
Fluorescent jackets (E.g law in France)
Water - for drinking AND spare for car
Coins/cash/bank card - possible tolls
Blanket
Food/snacks
CDs/cassettes
We hope that this guide can give you an overview on prepping for a Mini Road Trip this summer! Don't forget, our team is available 9am – 5pm Monday to Friday to assist you with any questions you may have – or assistance you may need, please don't hesitate to get in touch!