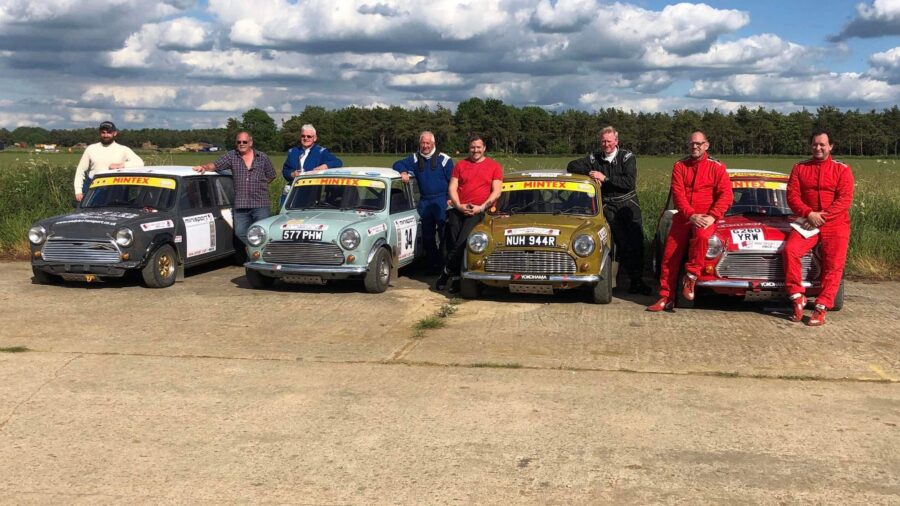 The second round of the 2022 Mini Sport Cup took place this weekend at Down Ampney Airfield, used during World War 2 for gliders to take off from to land behind enemy lines on D Day.
This demanding venue normally tests crews & car in equal measures and this year did not disappoint...
Leading the Minis away was Ryan Taylor with stand in co-driver Mike Wilding, followed by Matt Davies with Russell Joseph, Matt had had the head off the engine to check everything was okay following the 1st round dramas. Next crew were Andrew O'Hanlon & Kevin Hogan. Shane Gamble was back with Bob Ward, Shane had replaced his engine with an old unit as his engine from the 1st round was still at the engine builder's.
New contenders Stuart Baker & Jeremy Baker were joining us for the 1st ever time with their smart open class Mini!
Closely followed by Craig King & Claire Jennings, following their last stage drama's on the last round where he had run out of fuel, a braided fuel line had been found to have split.
Harvey Stevens with Andrew Selly were making their 1st visit to this venue.
The 1st stage, of 10 stages in total, had crews coming in with tales of inconsistency with grip levels most guys were having moments.
Craig went off into the trees, luckily he didn't hit anything but still managed to go off again later in the stage, again without hitting anything.
Ryan slid into a barrel when he got caught out luckily with only minor damage. He was however still the quickest Mini.
Stuart caught an escort which continued to bulk him for two laps losing him time.
The next few stages had crews coming in with brakes overheating & engines running hot as the temperature rises.
Andrew had a leaf blower to help cool the engine, very F1!
Matt had an off which resulted in the front of the Mini looking second hand but continued to set quick times, although the off had cost them valuable time.
Harvey had a misfire where a rocker had come loose, with that fixed, he suffered fuel surge which was then fixed by running more petrol in the tank.
Stuart sadly retired when he lost the brakes after a hose split. Shane was the next to retire after all the hard work changing the engine, it blew the head gasket. The crew with the help of all around took the head off but the block had been damaged.
Craig & Claire started the next stage as they set off the engine died, it took a couple of minutes to get it started again when Craig flicked the ignition switch off & back on for it to spring into life.
By stage 7 Ryan had a commanding lead but behind everything was to play for behind. Ryan had the throttle linkage brake resulting in the throttle stick open but drove it on the key, dropping some time off their lead.
Harvey's engine was now running the best it had all day & started to push the leading crews.
Craig had discovered the manifold had cracked but was unable to repair it as it needed welding, so carried on with fingers crossed. Each stage the crack got bigger until stage 9 it broke & dropped off. The organisers sadly had to exclude them with only one stage to go. This would be two events on the trot where they were unable to complete the last stage.
With only 4 crews finishing Ryan managed to hang on to be first Mini and first in Cat 3.  Followed by Andrew & Kevin.
Well done to all the crews on finishing this demanding rally.
The sponsors prize draw gave two Yokohama tyres to Ryan Taylor, Penrite Oil to Harvey Stevens & the Snap On prize to Craig King. The Questmead award for the improvement on seeding goes to Harvey Stevens.
Congratulations Ryan & Mike on 1st Mini overall!
Thank you to the generous sponsors of the HRCR Mini Sport Cup – Mini Sport, Mintex, Yokohama, Penrite & Questmead, without whom there wouldn't be a Championship.
To catch up with all the action from the Mini Sport Cup, please see here.
For more information on the Mini Sport Cup, please see our Facebook page here.
Words - Clive King