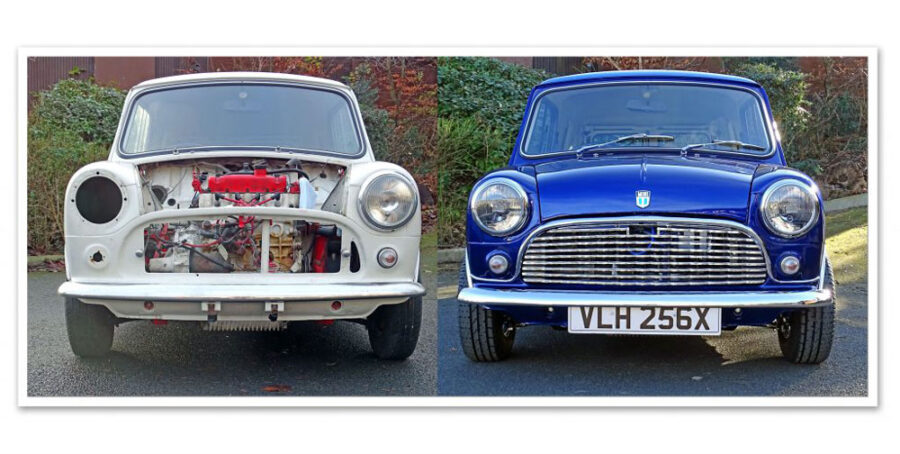 Back in December we were tasked with completely revamping this sorry-looking Mini Van…
Wishing for a new lease of life for their recent purchase, were owners Alex Munday & Vincent Gruber, who procured this 1981 Austin Morris Mini Van in the hopes of having it transformed into transportation that they would be proud to have representing their company – Interior Workshops London. Having already restored Alex's 1996 John Cooper Works Mini Cooper S in 2017 to, as Alex puts it, "beyond my expectations to near perfection" – Mini Sport were the obvious choice to undertake this project.
Arriving with us here in a partially-stripped state, our experts could see the issues on the shell that would need attention before the shell was sprayed in the two-tone colour scheme that suited Alex & Vince's brand.
First thing's first, it was over in to our Garage to complete the strip down & remove the Engine. The engine was in desperate need of reconditioning, with rust & muck covering the what was once White paint, embellished with Red accessories wherever possible – a theme that had been carried throughout the whole Mini Van.
Once the Engine was removed, it was time to detach the Subframes, that despite the unsightly paint, were in very good condition – these would be stripped, cleaned and powder-coated Black before being built back up with new parts. Left with a completely bare shell, we then transferred the project to our Body Shop where our technician began assessing the Van.
During it's 38 years in existence, this Mini Van has certainly seen a lifetime of abuse, full of dents & previous repairs that hadn't been completed correctly left this shell with almost a ripple effect across it's side panels & roof.
Our Body Shop technician Bas set to work, first flatting down to the bare metal – before beginning to repair & replace panels where necessary. The Roof, Sides and Rear Quarters of the Van were repaired using filler as complete Side Panels for Mini Vans are now no longer available, new A-Panels were fit, along with new doors – both Left & Right Rear Doors and Left & Right Side Doors, that were fit at the end of the re-build process. Once Bas had completed the necessary repairs, it was time to seal the Mini – to keep it water tight and prevent rust, before moving on to priming.
Once primed, Bas was ready to apply the colour in our Spray Centre, Vision Blue on the Roof & Deep Impact Blue on the exterior of the Van, before finally painting the Doors & Bonnet.
At this point the Mini was then handed over to our Workshop technician Michael, who set to work transforming this two-tone shell back in to something resembling a Mini Van once again.
Michael began by fitting the reconditioned Subframes and associated parts, including, but not limited to the Brake Pipes, Drive Shafts, Braided Hoses, CV Joints, Suspension Cones, Performance Handling Kit with Rear Brake Assemblies with Mini Sport Superfins on the Rear Subframe, and Mini Sport 7.5" Mini Disc Brake Assemblies in Blue on the Front Subframe.
With the Subframes now being fully built & fit, it was time to get this baby rolling! JBW 4.5″ x 10″ Minilight's were fit, along with Yokohama A008's – which are the UK's best selling tyre for the Classic Mini.
When re-building a Mini, we begin at the very bottom, and work our way up – with the Engine being one of the final parts to be fit.
Steering Rack, Quick Shift, Centre Speedo, Guages & Switches were next up going in, along with Electricals – such as the Headlamps being fit. Having been fully remanufactured & the Cylinder Head modified over in our Workshop, it was now time for the Engine to be returned to the Engine Bay.
Looking much better than the undesirable White & Red theme the Engine sported previously, it was now much fresher – displaying a cleaner Black appearance, with Blue accents where possible. Whilst on the ramps in our Fitting Bays we set about fitting the Interior Trimmings, including the Carpet Set in Powder Blue and the Exterior Brightwork such as the Grille & Bumper.
The Mini had shaped up nicely, looking very sleek indeed, attaching the Doors – the Tracking/Suspension was then set. Finally the Van was put through a full diagnostic check, finished off with a tuning on our Rolling Road and a full Service & MOT.
Many, many hours of tireless hard work & passion has been poured into the transformation of this Mini Van by Bas & Michael and we're delighted to say that Alex & Vince were overjoyed when presented with their new & improved works Van!
If you're interested in more information on our restoration service, please see here, call us on 01282 778731 or email us on sales@minisport.com.