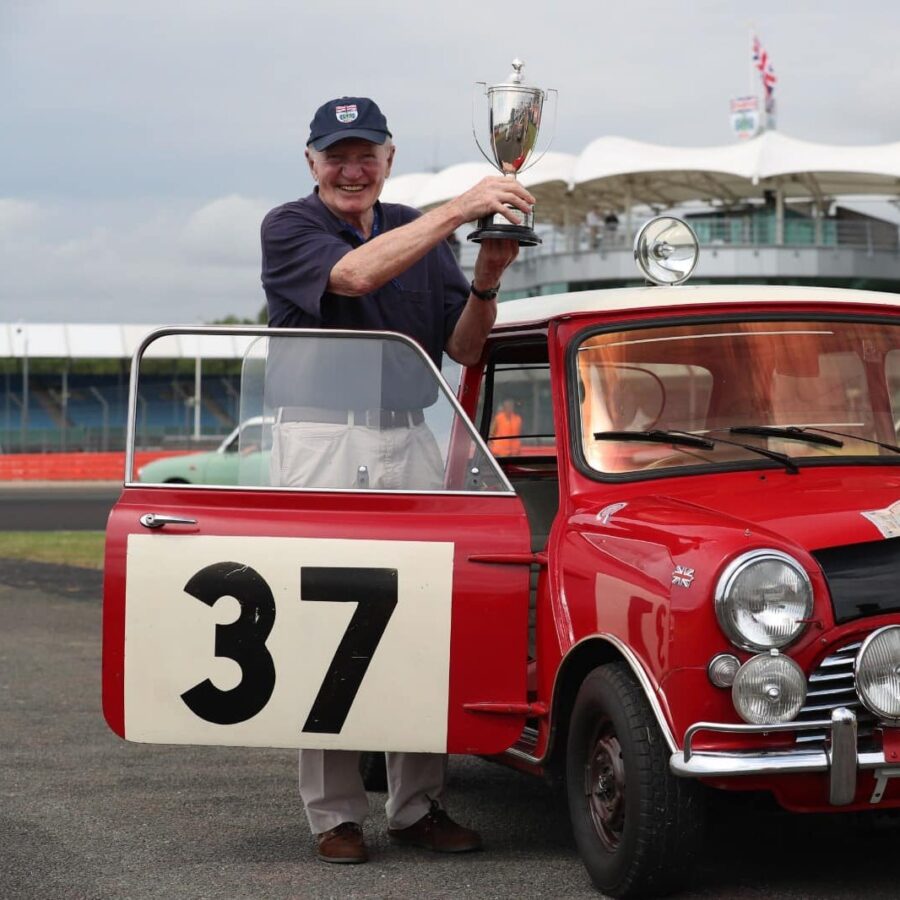 Over 50 years ago, the Mini established itself as a 'must-have' car for drivers everywhere; a massive factor in this was the success of Paddy Hopkirk as he roared to victory in the 1964 Monte Carlo Rally in his Mini Cooper S.
In an interview with the Belfast Telegraph, Paddy recounted that famous moment, as well as some other tales from his life. Here's, we've picked out some of the best 'Paddy Facts' about the Monte Carlo Rally – how many are you already aware of?
Paddy Hopkirk Monte Carlo Rally Facts
Paddy's Mini made quite the impression in Minsk. In those days, The Monte Carlo Rally required drivers to set off from various places in Europe to converge on the starting point in Reims, in northern France. Paddy seemed to have drawn the short straw as he was made to go from Minsk (then in the USSR, now Belarus) – in mid-winter. So as you can imagine, there were deep pockets of snow everywhere. In fact, it was so cold that the cars had to be towed around the city square by tractors to get them started. As the watching locals had never seen a Mini before, they thought that this was how one was started!
He drove the wrong way. Battling the track around a small village in France, Paddy Hopkirk accidentally drove the wrong way up a one-way street and was stopped by a gendarme who threatened to book him. This would have meant that he would have been disqualified from the race, so he told the military policeman that he 'resigned from the race' and was hurrying home at the behest of his family who had some bad news about sick mother. A little porky that saved his race and helped to make history!
He ATE his side hustle. With not much money at stake in the race, Paddy brought several piles of ladies nylon stockings with him, swapping them for a giant tin of 'Beluga No1 caviar' with the chef of the hotel he and his crew were staying at. The plan was to sell the caviar to the chef of a posh hotel (as they all are) in Monte Carlo when he arrived in the city. Apparently, the caviar would have sold for more money than he would have got for winning the rally.As it turned out, he did win the rally. However, instead of selling the caviar, he and his many friends – the F1 driver Juan Manuel Fangio, Stuart Turner (manager of the BMC team) and designer of the original Mini, Alec Issigonis, ended up dining on the caviar and washed it down with champagne and vodka to celebrate the win!
He became Britain's most famous racing driver (at least for a while!) The shock win of this little car against the supercars with their massive engines made headlines across the world. Paddy received congratulations from the Prime Minister, Alec Douglas-Horne and politicians in Northern Ireland, as well a telegram from The Beatles (who would be proud owners of their own Cooper's not long later). He was even invited on Sunday Night At The Palladium to be interviewed by Bruce Forsyth in front of millions of viewers.Perhaps the most famous interaction with a 'celebrity' that Paddy Hopkirk has had was with Princess Grace of Monaco, who presented him with the trophy for winning the rally. Famed for her previous career as an Hollywood actress (notably the Alfred Hitchcock films, Rear Window, Dial M For Murder and To Catch a Thief), Grace Kelly made international headlines when she married Prince Rainier in 1956 and was amongst the world's most admired people. On the 50th anniversary of his win in 2014, Paddy returned to Monte Carlo to show the trophy to her son, Albert (the current monarch of Monaco).
He keeps his signed photo and telegram from The Beatles in his cloakroom. Before sending the telegram and signed photo, drummer Ringo Starr found himself in need of a lift whilst in Paris – Paddy's mechanic duly obliged. After hearing about the famous win, Ringo sent Paddy a telegram that read "It's nice to be number one isn't it. Stop. Congratulations. Stop. Thanks for the lift. Stop. Ringo Starr"! The signed photo that accompanied it was dedicated with signatures from all four Beatles and a "You're one of us now Paddy!" message. (So after all this time, it was actually Paddy who was the fifth Beatle?)To this day, Paddy keeps them framed in his cloakroom!
Paddy became synonymous with safe driving. The spotlight that the Monte Carlo Rally win provided opened a few doors for Paddy Hopkirk to explore the things that he was passionate about. Those of you of a 'certain vintage' will fondly remember the heyday of public information films – well, Paddy was in one! As a recognisable name, the government-backed initiative employed Paddy to present a piece on the importance of wearing seatbelts. Check it out, it's almost like Hitchcock himself directed it:

Safe driving is something that Paddy is a big advocate of to this day. Along with his son (also called Patrick), they are ambassadors of IAM RoadSmart; an independent road safety charity who run courses and hold events to improve the standards of driving. Earlier this year, at the age of 86, Paddy passed the course with distinction. He regularly travels throughout the country to talk about road safety and how older people especially, can drive safely with confidence on today's roads.
So that was our 6 Paddy Facts concerning the Monte Carlo Rally. With such a long and varied career, there is plenty more to chat to the man himself about! Paddy regularly attends classic Mini events across the country so be sure to get along to one and meet the man himself!
Mini Sport & Paddy Hopkirk: A Winning Combination
Having been working alongside Paddy for many years here at Mini Sport, we have created a wide range of Paddy Hopkirk Mini products that any dedicated Mini fan would love. Aside from some fantastic Monte Carlo Rally merchandise, we have worked closely with Paddy to design and build Mini parts that are preferred by the man himself.
If you have any questions that you would like to ask about anything you may see on our website, or just need advice on Mini servicing in general, our Mini specialists would be pleased to speak with you. Give them a call on 01282 778731 or send an e-mail to sales@minisport.com.