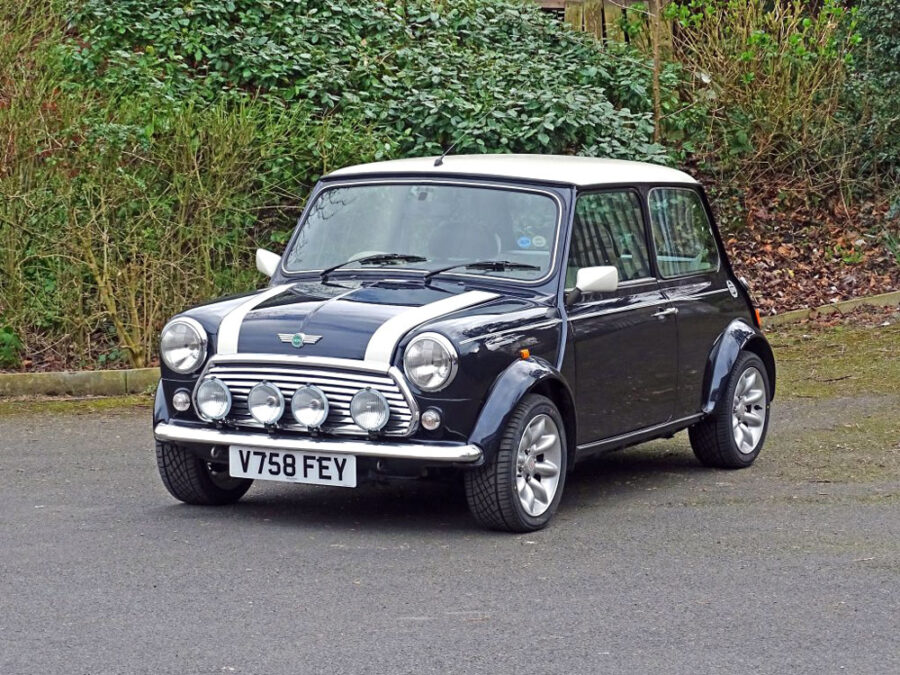 Liz Blake's 2000 Rover Mini Cooper Sportspack arrived with us here at Mini Sport in a bit of a sorry state, having lived in the Lake District on a farm for many years this Mini was almost constantly exposed to moisture & never given the chance to dry out! Suffering from deep corrosion & rot, the shell was crumbling away at the slightest touch and would have required extensive re-paneling & repairs throughout, resulting in a very time consuming & costly restoration… The customer made the decision that this would be a re-shell project as this was the most cost-effective route for her to take, saving both time & money, resulting in a practically new Mini!
A brand new British Motor Heritage Mk5 Sportspack Mini Bodyshell, complete with bonnet, boot and doors finished in primer was used for this re-shell project, as these shells have modified front wheel arches and are already pre-drilled, ready for fitment of the Sportspack wheel arches. Starting out in our Body Shop, this shell was prepared for painting – where it would be sprayed Anthracite Grey with an Old English White roof. Once the shell was in colour, it was then moved over to our Fitting Bays, ready to be built back up!
For the majority of this build, we were lucky enough to have the original Mini on one ramp & the new Mini on the other! Meaning parts were stripped off the donor & fit straight on to the shell. However not all parts were transferred, with some parts in much need of replacing… Steering Rack, Back Plate Assemblies, Calipers, Tyres, Bumper & Decals to name but a few!
Once finished, there was time for a few photos before this Mini Cooper Sportspack returned to Liz in the Lake District, who was delighted with the result, telling us that, "she's just beautiful!"
If you're interested in more information on our restoration service, please see here, call us on 01282 778731 or email us on sales@minisport.com.