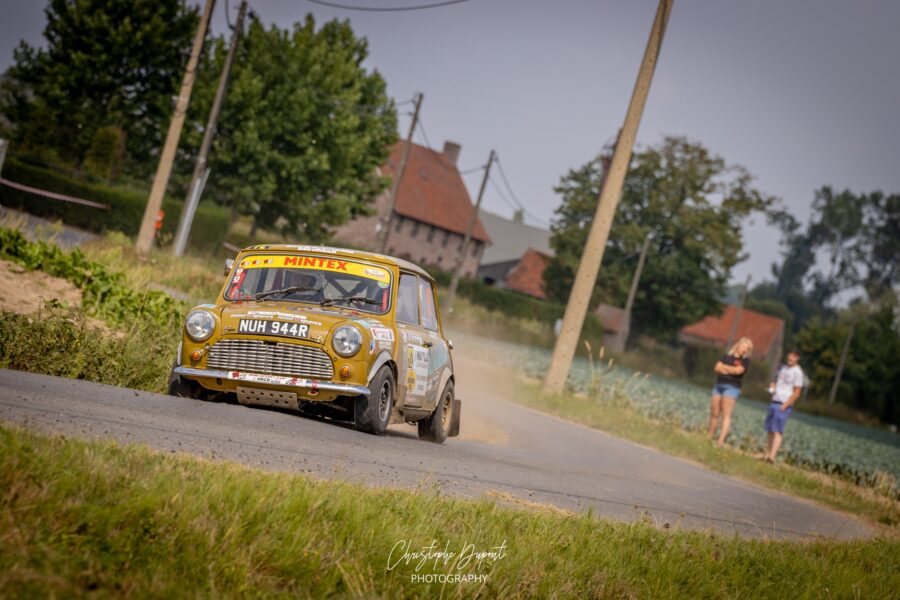 Tour of Flanders Report - Mini Sport Cup Round 6 & 7 of the Mini Sport Cup
2022 would see the Mini Sport Cup and Stage Masters make a return to Omloop Van Vlaanderen rally. This is a two-day event running Friday and Saturday. Eight Minis entered but only seven would start as Andrew O'Hanlon and Kevin Hogan cars engine let go on the rolling road the evening prior to setting off.
Much work had been completed to the cars in preparation for the event.  Ryan Taylor had refreshed his engine; Craig King had the gearbox rebuilt.  Shane Gamble had renewed the wheel bearings, front callipers, and a new gear box plus drive shafts to try and get some reliability.
Making a return to the championship were Mike Barratt with his rebuilt Cooper and Kevin Haselden with Cat Lund in the co drivers seat.
Much concern had been shown with the UK now out of the EU what would we need to get through customs, but the reality was all the crews had no problems and were waved through to board the ferry.
Thursday was spent make notes and checking the road book.
Friday morning was scrutineering and we managed to get all the Minis and the Stage Masters servicing together, which was great for a social weekend.
Day 1 started on the Friday evening, with 5 stages and 44 competitive kilometres to complete. Ryan Taylor and Lucy Wilding were first to lead the Minis away seeded at car 92, followed by Clive King and Anton Bird at 93, Shane Gamble and stand in co-driver - Belgian native Elien Verhaeghe at 94, Mike Barrett and Fiona Scarett at 95, Craig King and Clare Jennings at 97, Les Allfrey and Keith Fellows at 98 and finally Kevin Haselden and Cat Lund at car 99.
The first stage Ryan and Lucy had a clean run, more than could be said for some of the other Minis. First to hit problems were Clive and Anton who within a mile the new brake pads were gripping first with one wheel then the other wheel, pulling the car side to side. Then another mile further, he lost the brakes completely but made it through the stage.
Shane lost the brakes also, but his was a loss of fluid. He continued to the second stage only to go off into one of the large ditches.
Mike Barrett went off damaging the front of his rebuilt car, but was still going.
Ryan and Lucy finished day 1 of their first international event, 64th overall and 11 seconds in front of the next Mini of Clive King and Anton Bird, who were currently 66th overall. Les and Keith finished the first day 73rd overall, Kevin and Cat 75th overall and Mike and Fiona 95th overall.
Craig and Clare also had some bad luck were faced with clutch slave cylinder problems. This finally left the stranded at the start of stage 5 but got back to service thanks to Pete Ellerby and Shane Gamble.
Andrew O'Hanlon's team set to work trying to fix the problem but at 1.30 am they decided to call it a night, bit were back on it at 6am.
Thanks must go to Andrew, Kevin and Colin for their hard work.
Shane and Peter worked until 2.45 am and were up again at 7am to finish repairing their car.
Shane and Elien managed to get their car fixed and re-scrutineered and were able to restart, but unfortunately Craig and Clare missed the re-scrutineering slot due to still working on the car in the morning, and were therefore deemed unable to restart.
Day 2 saw 6 of the initial 7 crews restart the event, which comprised of 143.18 competitive kilometres over 14 stages. Ryan and Lucy started day 2 first mini after their successful first evening, but this was short lived when Clive and Anton started to claw time back. The first stage of the day - Stage 6, they took 16 seconds out of Ryan and Lucy, putting them into 1st place, and then stage 7 saw Ryan and Lucy take 7 seconds back out of Clive and Anton moving them back up to first placed Mini. Both crews were thoroughly enjoying the close battle, but unfortunately for Clive and Anton, the event was over when they had to retire on stage 8 due to the engine overheating.
Ryan and Lucy then decided to just drive conservatively to get a finish, knowing that all Ryan had to do was finish the event to be crowned Mini Sport Champion Driver for 2022. This was a sensible decision as the alternator light decided to make an appearance on stage 17, but thankfully the crew managed to preserve the car and all importantly get it back to the finish, scoring them maximum championship points.
Kevin and Cat who had a consistent day. Mike Barrett unfortunately retired on stage 13 of day 2 with clutch problems, and Shane and Elien were plagued with yet more bad luck when they reported a rattling noise coming from the flywheel end of the engine. Sadly, their rally came to an end on stage 16.
Final standings of the event were:
Ryan Taylor and Lucy Wilding - 54th overall, 6th in Class (Historic) and 1st Mini sport crew,
Les Allfrey and Keith Fellows - 58th overall, 8th in Class (Historic)
Kevin Haselden and Cat Lund - 61st overall, 10th in Class (Historic)
Congratulations to all award winners and commiserations to those who suffered bad luck.
All Mini Sport crews would like to pass on their extended thanks to all involved in the organisation of such a fantastic event and for making us feel so very welcome over in Belgium - some of us hope to join you again next year!
The sponsors prize draw gave two Yokohama tyres to Mike Barrett, Penrite Oil to Clive King on the Friday & Craig King on the Saturday, & the Snap On prize courtesy of Andrew O'Hanlon went to Ryan Taylor on Friday & Clive King on Saturday. The Questmead award for the improvement on seeding goes to Kevin Haselden. All prize draws were conducted by Kevin Hogans wife.
Congratulations Ryan & Lucy on 1st Mini overall!
Thank you to the generous sponsors of the HRCR Mini Sport Cup – Mini Sport, Mintex, Yokohama, Penrite & Questmead, without whom there wouldn't be a Championship.
To catch up with all the action from the Mini Sport Cup, please see here.
For more information on the Mini Sport Cup, please see our Facebook page here.
Words - Clive King
Main photo - Christophe Dupont
Featured photos - nicohistoricrally.be & Clive King