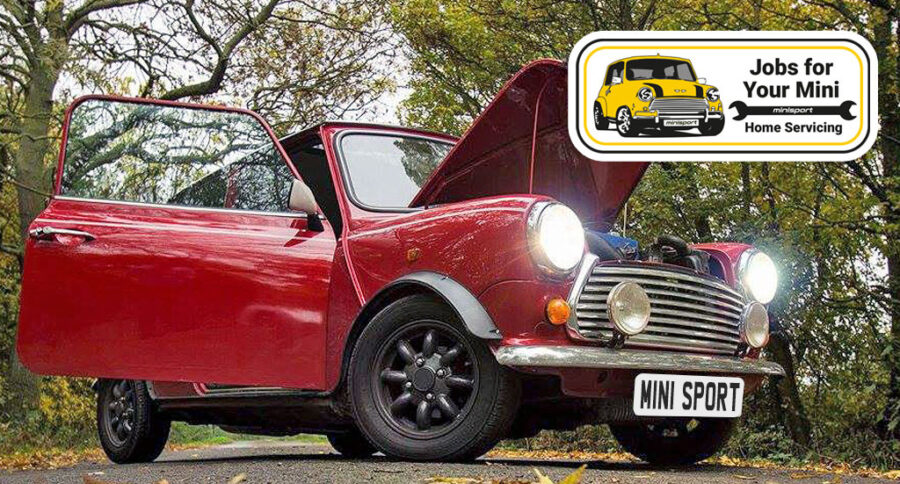 Look no further than Mini Sport for your guide to Mini maintenance and upgrades. Our series of blog posts are packed with ideas, tips, and tricks to keep your Mini running smoothly, all from the comfort of your own home.  Check out our previous maintenance posts! – see here.
Whether you're a seasoned pro or a curious beginner, we'll take you through the steps to perform a visual check on your Mini.  So get ready to give your Mini the TLC it deserves!
To start off, take a good look at the exterior of your Mini. We recommend that you check the following :
Switch on your Mini's side lights and check that all the bulbs are illuminated – front / rear, number plate and dash illumination.
Switch headlights on to the dip beam – check both headlamps are illuminated
Switch your headlamps on to the main beam – check both headlamps are illuminated and main beam warning lamp on the dash
Switch your Mini's hazard warning lights on  – check front and rear lights and side repeaters where fitted for illumination including the dash warning lamp.
Turn on the ignition and check indicators – left hand and right hand, rear and side repeaters where fitted and dash warning lamp.
With the ignition still on press the brake pedal and get someone to check the brake lights are working
With the ignition still on, select reverse gear and check reverse lights where fitted
Check tyre walls for damage, bubbles or cuts and check tyre pressures
Check tyre tread depth and even wear across the width of the tread – if uneven, have your tracking checked professionally
Check wheel rims for damage or corrosion
Check condition of spare wheel and tyre pressure
Check wheel arch extensions for cracks or damage
Check inner and outer CV boots for splits or cracks
Check fluid levels – oil, coolant, brake and clutch and windscreen washer fluid.
Check windscreen for cracks or stone chips
Check wiper blades for even and unbroken wiping of the screen and rubber condition.
If any of the following checks leave you to believe that something isn't as it should be – if something looks damaged or worn, replace the part! Failure to keep your Mini in tip-top shape could be dangerous for both yourself & other road users!
Don't hesitate to reach out if you need any guidance or advice! Our friendly and knowledgeable team is just a phone call away at 01282 778731 or you can email us at sales@minisport.com. If you're more comfortable having one of our experts check your Mini, you can book an appointment today. We're here to help in any way we can!