Order now, pay online & collect from:
Mini Fair 2019 | Bingley Hall, Staffordshire County Showground | 27/01/19
British Mini Club are very proud to be celebrating the 20th year of Mini Fair during the 60th year of the Mini, kicking off the 60th Mini year in style with a mega indoor annual event held at the end of January, a winter highlight attracting thousands of Mini fans from all over the UK and beyond. Mini Sport will be once again sponsoring and attending this show. Bringing along our comprehensive trade pop-up Mini store which includes Mini parts and accessories from notable brands including Paddy Hopkirk Mini and the Cooper Car Company.
Mini Sport will be of course offering our exclusive Click & Collect service which allows all in attendance to pre-order parts and products from our website and collect for free on the day, avoiding all additional postage and carriage costs.
This is the only way to guarantee you will get what you need, due to limited space in the vans we will not be taking large products such as - wheels, body panels, seats, unless they have been ordered with our 'Click & Collect' service before Thursday 24th January at 12pm.
This saves you the cost of shipping, perfect for large, bulky or heavy items!
LAST CHANCE FOR ORDERS - Thursday 24th January
12pm
This is how to do it:
Step 1: Select all the items you require then proceed to 'Checkout'
Step 2: Enter billing address as normal
Step 3: Change delivery address to (Must match exactly):
Address:- Mini Fair 2019
City:- Bingley Hall
Country:- United Kingdom
Zip/Postal Code:- FAIR19
Step 4: Select FREE DELIVERY (If Free Delivery is not a delivery option, please refresh the page after entering Post Code FAIR19)
Step 5: Make payment and proceed to checkout
Step 6: Visit the Mini Sport pop-up store at British Mini Fair 2019 and collect your order
See you there!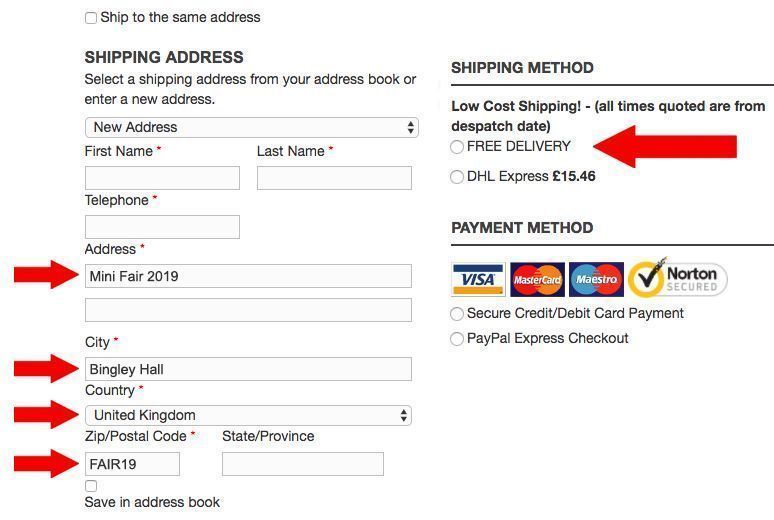 The World's premier supplier of online Mini spares and parts, we also stock a full range of parts to suit all your Mini needs that can be found on our website here.