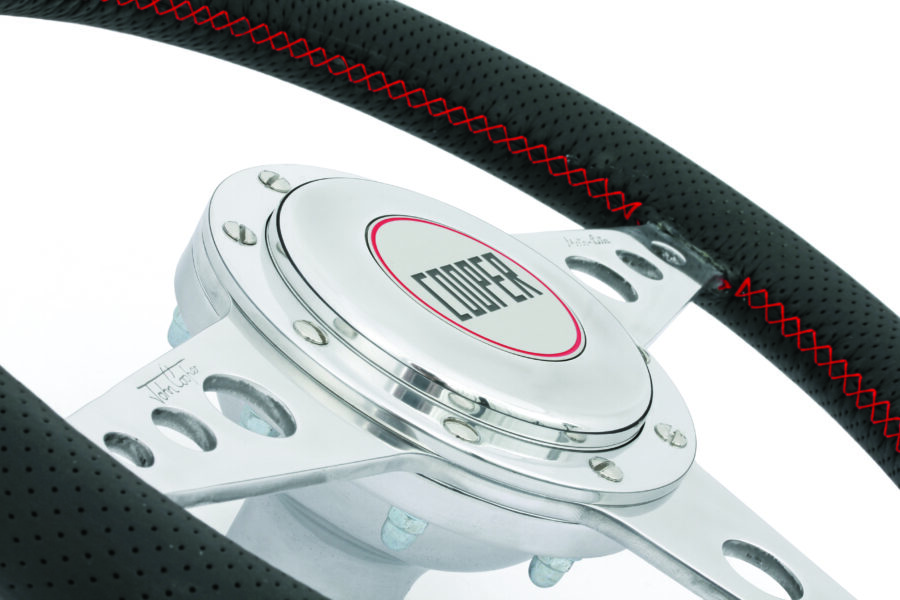 The joy of driving a Mini is in the control we feel when we turn the wheel. So choosing your ideal Mini Steering Wheel is of the utmost importance. Mini Sport have a large selection of wooden, vinyl or leather steering wheels, with matching Boss Kits. We have everything you need to evoke the spirit of the classic in YOUR driving seat.
Replacing your Mini's Steering Wheel is a relatively easy thing to do. However, if your Mini was originally fitted with an airbag (MPi) one must be present when it's time for an MOT - otherwise it's a fail….
Once you have chosen your Steering Wheel, you need to find the appropriate centre Boss Kit for your Mini. Then it's time to swap!
Step 1
Sitting in the drivers seat, turn the steering so that the front wheels are in the straight ahead position. Make sure the current steering wheel is centralised.
Step 2
Remove the centre cap of the original steering wheel (this should just clip off using a screwdriver), so you see the securing nut.
Step 3
Loosen the securing nut but don't remove it completely.
Step 4
Tap the wheel on left and right side vigorously with your hands to loosen the grip of the taper, pulling the wheel towards you. Once the wheel is loose, if you removed the securing nut you will now be sporting a broken nose! However if you left it on like we said, you can now remove it and the steering wheel.
Step 5
Now you can assemble your new Mini Steering Wheel with the Boss Kit
and fit them onto the Steering Column splines. Adjust the position to centralise the steering wheel on the splines and check that the indicators cancel.
Step 6
Refit the securing nut and torque to 35 lb/ft ( 47Nm ). Finish off by fitting the centre cap of your new Steering Wheel, which should just clip on.
Then start up the engine and enjoy the driving experience with your stunning new steering wheel!
Please feel free to browse our range of Mini steering wheels and accessories – click on any of the products for more information. If you have any questions about any of our products, our service or on Mini servicing in general, we would be delighted to hear from you. You can call us on 01282 778731 or you can send us an e-mail at sales@minisport.com