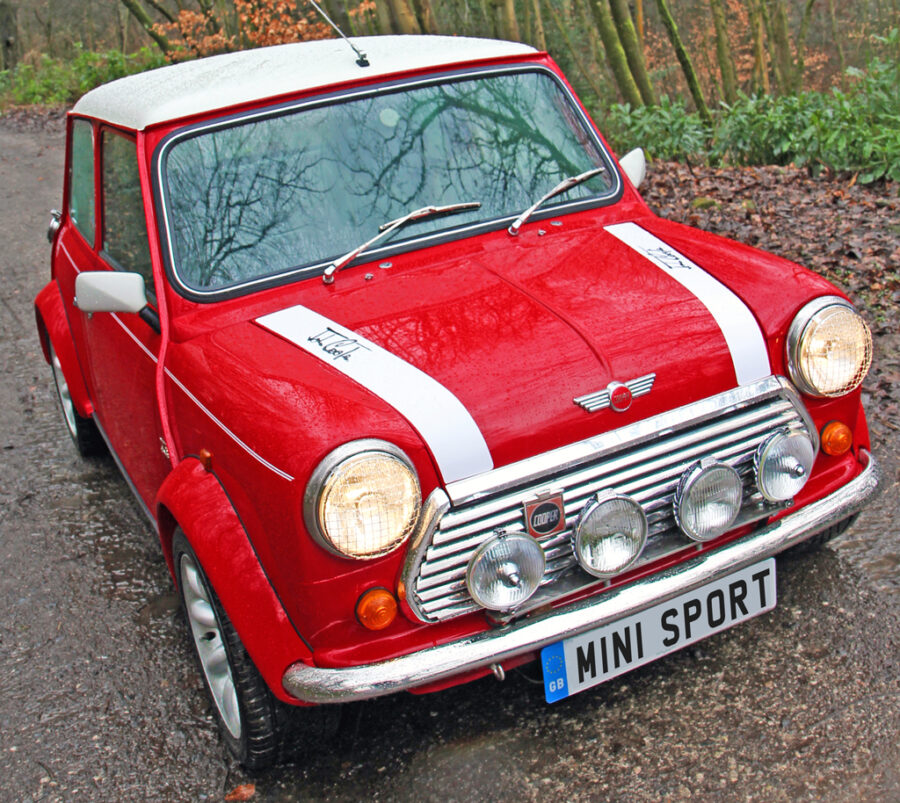 Check our finished restoration on Alex Munday's 1996 John Cooper Works Mini Cooper S! We have once again saved the day, keeping another Mini on our roads, and Alex couldn't be happier as he shared with us the warming story behind this Mini's time with us here at Mini Sport:
Alex Munday is all smiles as he comes face-to-face for the first time with his completely restored Mini Cooper S! Pictured here
with the Mini Sport team who worked tirelessly to bring life back to this Cooper, Rob, Basil and Michael.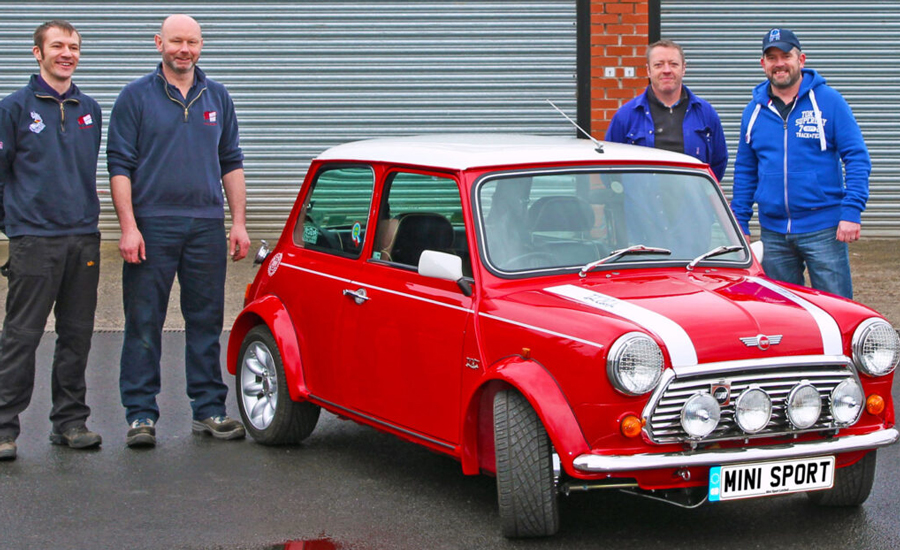 "Like so many my first and second cars were Mini's, inspired by the Italian Job Movie as a kid.  My first was a Clubman 73 1000 GT, more holes in it than a tea bag, but I loved it!   My second was an 86 Mini Mayfair 10 inch alloys, arches all standard it had 11,000 miles and was mint and purred like a cat!  Perfect!  needless to say I had lots of fun driving it whilst my friends drove Escort's and Capri's.  On the straight roads, I couldn't keep up but on the B roads it was the king!  
When my wife passed her driving test, I bought her a Mini City F reg, 22,000 miles, mint condition and targ red. We had a young family and had to opt for a practical car.  We put the mini into a lock up garage and there it slept for 15 years.  
As soon as the children were rid of car seats and booster seats, we opened the lock up in hope of getting her back on the road.  We were shocked and horrified to find the little car in a sad state.  I went on search for another, I always fancies the rejuvenated Mini Cooper's from the 90's and found one advertised in a mini magazine which had a matching trailer, this would be perfect for our now family adventures and holidays.  I went and saw, loved it, brought it home!   I was so excited with our purchase I guess you could say "childlike".  I took the car to a Mini Specialist in Mini Sport as I wanted to treat it to a good service because they still have the Cooper connections, I thought that the journey from London to Manchester was worth it.    That is where out nightmare began, there Mini Sport gave me the bad news that the shell was rotten, I felt like my insides had been ripped out and we now faced a dilemma in either loosing our purchase or going down the long financial road of restoring it back to its glory days.  We would be taking on its second life as this car had already been restored in some areas before.  We had some hard decisions and some sacrifices to make.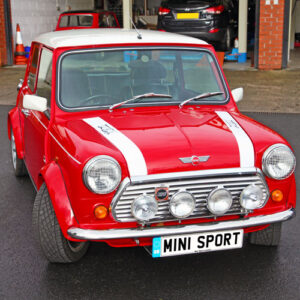 "Mini Sport rebuilt our dreams"
Christmas was upon us and it was sad news to have to tell the family.   Christmas morning whilst giving out presents my wife handed me a box which simply said "follow your dreams, I love you", and so it began. 
I took the car back to Mini Sport where they have restored it beyond my expectations to near perfection!  Mini Sport rebuilt our dreams.  It has been a year in the waiting and a year of saving, and we cant wait to get out on the road and fulfil all our family adventures.  I it a great feeling to know that we have saved this little car and such great history.   We owe a special thanks to Rob, Baz, Michael, Cara and Chris for all their time, support, advice and hard work. 
 - The Munday Family."
Although looking immaculate now, you can see the full transformation this Mini has undertaken on our detailed blog here.
If you're interested in more information on our restoration service, please see here, call us on 01282 778731 or email us on sales@minisport.com.